Walking type launching girder made by ZZHZ is of honeycomb girder structure, which can greatly reduce wind impact on the main girder and improve stability and safety of the complete machine.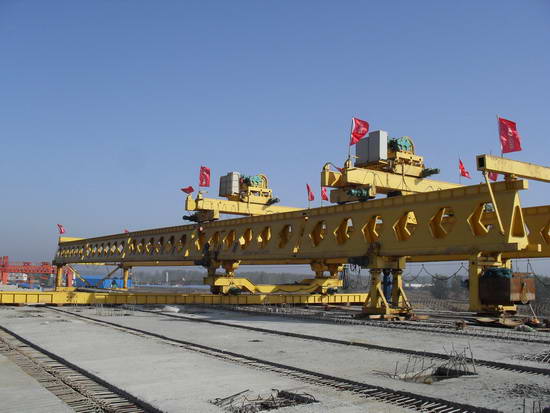 Currently honeycomb type launching girder is widely used for highway bridge with a span <=50m, lifting capacity <= 250t, it is mainly made up of:
Main girder, front trolley, rear trolley, front support leg, middle support leg, rear bracket, rear support leg, electrical system and other parts.
Therein hydraulic cylinders are set for front support leg, rear bracket and rear support leg to jack up the main girder if necessary. As a main support, middle support leg is hanged on the bottom chord of main girder, which can move forward by its own hanging system. Front support leg and rear support leg are fixed with main girder, and rear bracket is hanged on the main girder.
Only transverse sliding rails are in layout for walking type launching girder. One transverse sliding rail is arranged on pier to and the other transverse sliding rail on bridge deck to allow the complete machine to move laterally.
Main materials for walking type launching girder:
Upper and bottom chords: Q235B
Web plate of main girder: Q345B