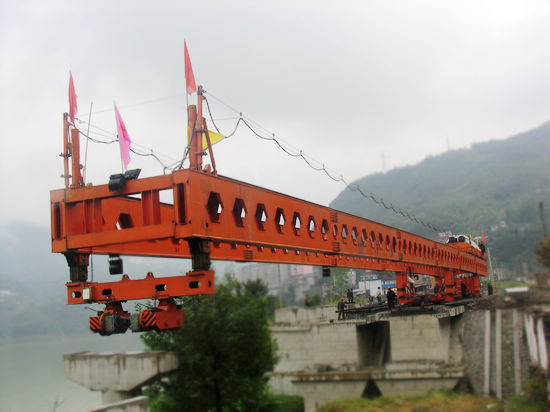 Application range and use
hide/show
HZQ series launching gantry both for highway and railway construction is designed by our company according to the situation where nowadays railway is expanded with less base, more bridge, and bridge and tunnel connected closely. Combining the characteristics of present launching gantry at home and abroad, our launching gantry for highway and railway are quite reliable and convenient.
Main features and advantages
hide/show
◆ Low height, narrow width, light weight and compact structure. The whole set can pass through the tunnel; what's more, it can feed girder and erect girder (lift girder) in tunnel.
◆ The length of the maximal part is no more than 10m which can meet the vehicle transportation rules.
◆ It equipped with auxiliary trolley and special gantry (gantry frame) which has complete function, it not only can erect girder (lift girder) bidirectional, but also can pave rails. It can erect (lift) the girders of highway after it refitted partly and replaced part components.
◆ It can move a long distance on the rail with self- power
◆ Its assembly, disassembly and maintenance are very convenient. It only needs to disassemble partially when transfer site by train, the special gantry can fold and pack by itself without a hoisting machine (crane).
| Type | HZQ32/165T |
| --- | --- |
| Span | 32m |
| Lifting Capacity | 165t |
| Cart Moving Speed | 4-8m/min |
| Trolley Moving Speed | 2.75m/min |
| Trolley Lifting Speed | 0.5m/min |
| Centeral Distance Between Two Girder | 3.4m |
| Machine Gauge | 1.435m |
| End Cantilever Defletion | 480mm |
| Middle Girder Defletion | 38mm |
| Max Wind Force | ≤6 grade |
| Curvature Radius | ≥700m |
| Longitudinal Gradient | ≤±20‰ |
| Transverse Gradient | ≤±20‰ |
| Self-weight | 160t |
| Power | 150/kw |
The design basis of product
hide/show
We design the launching gantry according to the rules of the newest machinery and crane in China, the rules are following:
《Cranes–Test code and procedures》 GB5905
《Safety regulations for hoisting machinery》 GB6067
《Code for design of steel structures》 GB50017
《Safety technology specification for special equipment》 TSG Q7002、Q0002
《Code for construction and acceptance of steel structure》GB50205
《Standard for quality inspection and evaluation of steel structure engineering》 GB50221
《Weld Outer Dimensions for Steel Construction》GB10854
《Code for construction and acceptance of electric equipment installation engineering》 GB232
《General technical requirements of assembly》 JB/ZQ400.9
《Mechanical properties of fasteners》 GB3098
Main requirements of design
hide/show
◆ Technical index;
Safety factor 1.5
Using grade: U3
Load state: moderate
Working grade of the whole machine: A3
Working grade of the mechanism:M4
Working condition and requirements of design etc.
◆ Calculation analysis and check-calculation of the whole structure According to technology condition of design of crane, we confirm the construction condition, and then calculate and analyze the strength, stiffness and stability.
After the classical calculation, we start the calculating work of design of steel structure, and adopt the finite element analysis, the load applied to models respectively, and then calculating and analyzing beam element and plate element. Finally, the authoritative department will check and calculate again.
Main mechanical manufacturing technology
hide/show
quality control of manufacturing process
hide/show
Tracing data and leaving factory data of product
hide/show
The method and steps of installation
hide/show
Checking methods after installation of product
hide/show
operating requirements and attention
hide/show
Time and item of maintenance
hide/show
Disassembly and steps of transferring site
hide/show