Beam launcher made by ZZHZ adopts honeycomb type main girder structure which greatly reduce wind impact on main girder and improve its stiffness.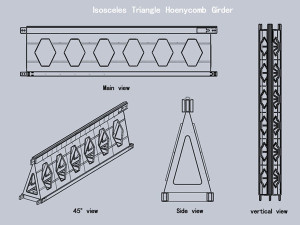 Honeycomb girder features light self-weight, high stiffness, low deflection and high wind resistance. The main longitudinal girder keeps load-bearing steel plates at two sides of box girder, removes non-load-bearing steel plates at upper and bottom parts, directly welds two sides steel plates together, replaces U-steel at bottom parts, thus the honeycomb girder structure is designed, it keeps the advantage of box girder and overcomes its shortcoming of  too heavy structure.
Many customers buy another beam launcher after purchasing and using one set, mostly because they think the main girder has high stiffness and will not distort easily.