Usually when we give a CIF quotation on honeycomb girder launching gantry,  we include 3 parts: FOB China port, Insurance and Sea freight to destination port.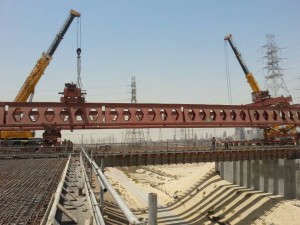 Where fees for below parts are not included:
Girder lifting and carrying equipment (girder carrier and gantry crane);
Personnel and equipment to assemble launching gantry in the worksitePersonnel: 8-10 workersEquipment: Truck crane>30t                  1 set

Φ19.5 steel wire rope 8m               4 ropes

Sleepers                             several

Electric welding machine                1set

Oxygen, acetylene                     1 set

Hammer(12pound、8pound)          1 set for each

Wrench and pincher                    several

Gradienter                           1set

 All cost from

destination port to worksite

 is not included.
All maintenance cost and service cost after 1 year quality warranty period shall be in clients' account.
Inspection fee for the 3rd party international inspection agency is not included. But all the equipment has a quality certification gave by our quality inspection bureau.