FAQ
三 22, 2013
What are main parts of auxiliary front and rear support legs of launching girder?

已关闭评论
Launching girder auxiliary front and rear support legs are mainly made up of hinged support, jacking cylinder, guide sleeve, guide pillar, connection cross girder, support frame and anchoring device. When a support on the bridge girder is needed, removing support frame can meet the demand of operation height and will not affect the space to feed girder at rear part of launching girder.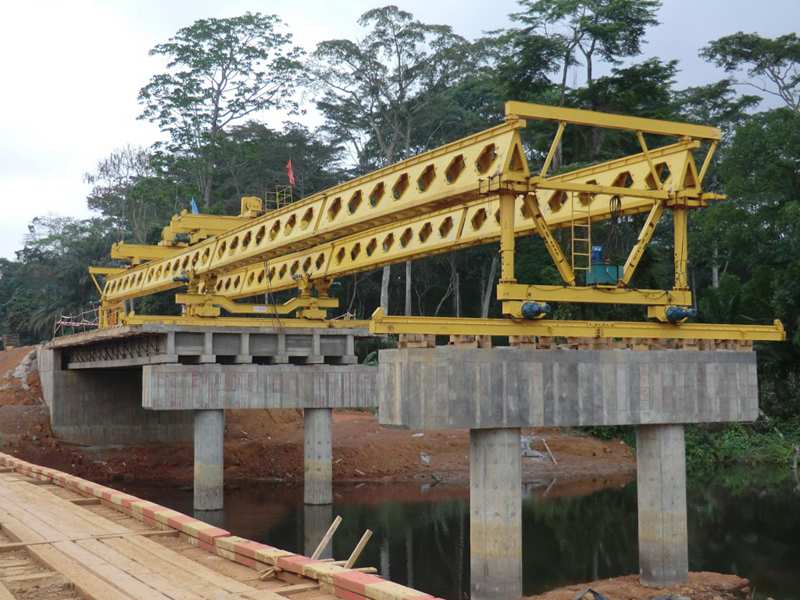 Hinged support at upper part is connected with guide sleeve by pins, making support legs adapt to bottom deflection as main frame moves longitudinally to cross piers. Relative position between support legs and guide sleeve can be adjusted.
Jacking cylinder is driven to work by an unique hydraulic station, change the height of telescopic sleeve by stretching out and drawing back of hydraulic cylinder to meet the demand.
Lower part of guide pillar is connected with support frame by bolts, holes with equal distance is set at sides of guide pillar. Outer telescopic sleeve is of hollow structure, inner telescopic sleeve can move in the hollow part, inner and outer telescopic sleeves are fixed by twoφ48 pins. As adjusting height of the whole support leg, pull out the pin firstly, then jacking cylinder begins working, when the support leg is adjusted to proper height, plug in the pin, and all loads can be born by telescopic sleeve. Independent hydraulic station is equipped on support legs which are installed on support legs platform for the convenience of operation and maintenance.