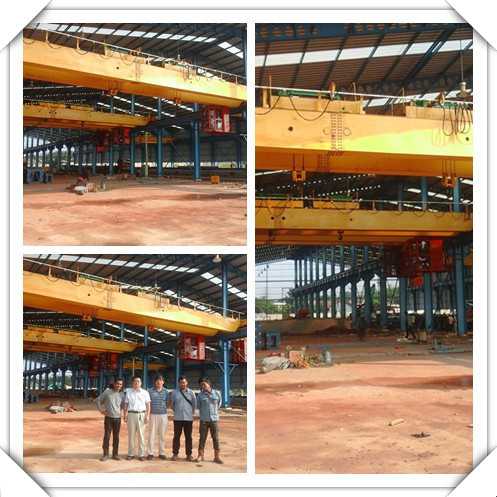 With two engineers', Wang Changsong and Shi Changfu ,installation and test for nearly a month, Huazhong Overhead Crane stands in the plant of blue and white.
Totally six overhead cranes are purchased by the customers from Indonesia. And the red and yellow appearance of the overhead crane is designed in accordance with the requirements of customers, which is the first attempt and performs well, attracting people's attention. All the festivals and joyful occasions adopt the red color to display happiness and good luck from ancient times. The red color exerts strong effect on people's view and shows the positive spirit and image of one enterprise; and yellow color symbols wealth and brilliance like the sun.
In addition, to meet the customer's individual satisfaction, based on the climate features of Southeast Asian,the operating system and other systems are designed more locally by Huazhong Construction Machinery Co.,Ltd, providing sound service for customers.Since Huazhong Construction Machinery Co.,Ltd opened up overseas market in 2010, it forges head stably in the overseas market for its details,high-quality products as well as sound after-sale service.