Honeycomb type overhead launching gantry is developed by ZZHZ as a patent product to combine advantages of truss girder launching gantry and box girder launching gantry.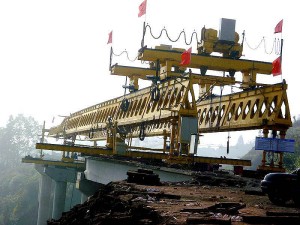 Its special advantages are as the following:
Unique and special honeycomb girder structure is patent product of ZZHZ, featuring high rigidness and low deflection and high wind resistance;
Middle support legs do not move on the bridge deck, it is unnecessary to lay longitudinal sliding rails, which reduces the pressure on the bridge deck as well as saves construction cost, thus the launching gantry has a larger adaptability to the box type precast girder.
The launching gantry uses support legs to move forward by itself, so it can better adapt to longitudinal and lateral slope in the actual working condition as well as make the bridge deck bear safer and more reasonable force;
Front support legs and middle support legs can be adjusted at random, core plate has adjustable angle, which make the launching gantry better adapt to construct curved bridge and skew bridge; as constructing the skew bridge, the position of front support legs and middle support legs can be changed according to the angle of skew bridge, the machine can construct skew bridge with angle below 45°;
Use CAXA software to design the drawing, make the launching gantry have a wider application range;
Finite Element Analysis calculation on main structures ensures safe bearing loads.