According to the requirements for the development of High-speed railway, ZZHZ develops HZSP30 Concrete Spraying Machine, which has been praised and welcomed by home and abroad.
The main units HZSP30 concrete spraying machine are as following: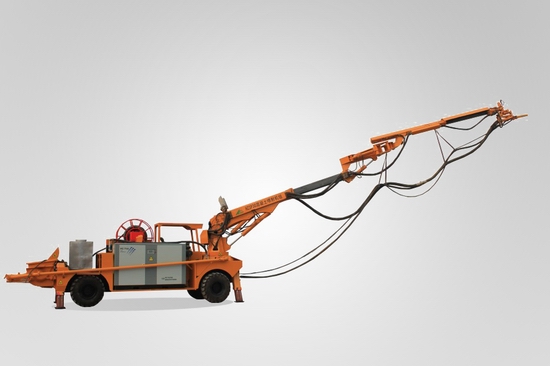 1. Chassis Device:
Chassis of HZSP30 concrete spraying machine includes traveling and driving system, diesel engine system, steering system, braking system and carriage.
2. Working Device:
Working device of HZSP30 concrete spraying system covers concrete pump-delivery system, cantilever crane, sprayer and driver system, accelerator delivery and metering system, air compressor group, pneumatic system and centralization lubrication system.
3. Hydraulic Device:
Motor-driving system, diesel dynamic system, hydraulic system, electric controlled on-ramps, sensory parts off-ramp.
4. Electric Device:
Electric device of ZZHZ HZSP30 concrete spraying system contains electric-controlling and hydraulic system, accelerator metering and controlling system, electrical cable system, cab interfacing system, working appliance operation interfacing system, remote controlling system.
5. Basic Body:
The basic body of HZSP30 concrete spraying group adopts pour-plug type concrete pump, 6 DOF manipulator, sprayer components, double screw compressor.
6. Boom Device:
2-phase scale and bend over available structure is reasonable, which can connect pivoting support with carriage frame, so that it is free of dead corner and can spray blind area effectively.
See more, please visit: zzhz.com
Contact: Amy
Email: zzhz114@gmail.com
Tel: 0086-371-68000000