To construct high speed railway bridge with design speed 300km/h, we have to learn how to produce concrete girders, Generally, there are two ways as below: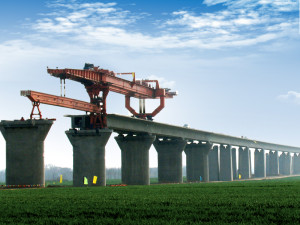 Full span girder prefabrication in the precast yard
In the plain area, 900t double girder beam launcher could be used with tires girder carrier to install full span precast girders, rail mounted gantry crane or tires gantry crane could be used in the precast yard to handle girders. To pass tunnels and meet different demands, single girder beam launcher, double girder beam launcher or tires beam launcher for girder carrying and installing could be selected. To transport precast girder to a long distance, the single girder beam launcher features fast speed and low construction cost, while tires beam launcher costs much higher.
Full span girder prefabrication in the bridge deck
Put steel cage in the formwork on the abutment, then pour into concrete; open formwork 12 days later, the movable formwork moves to cross span for next girder production. The construction method is suitable for bridge with less girders or limited worksite.