1. Application range of Girder Transporter
HZY900 girder transporter is suitable for transporting and installing whole concrete girder in high speed railway construction. Girder transporter can carry concrete box girder from precast yard to the worksite by way of pavement, railway roadbed, bridge and culvert, cooperating with the bridge girder launcher to finish installing girders. The girder transporter can carry the bridge girder launcher to another worksite in short distance, and also carry it to pass the passenger special double line tunnel.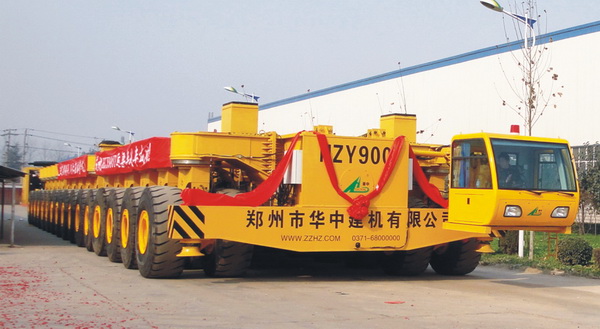 .
2. Main features and advantages of Girder Transporter
The girder transporter is designed and manufactured by ZZHZ, its main features and advantages:
● Hydraulic drive, hydraulic suspension bridge, hydraulic independent steering , the rise, fall and leveling of hydraulic frame. Use industrial computer to control driving, rise, fall, turning and leveling, as well as realize various operation modes such as direct movement, oblique movement and turning. The complete vehicle is very flexible, can realize no gliding driving or less gliding driving in smaller space.
● Use high quality interchangeable parts and standard parts as designing the transporter, choose famous brands parts at home and abroad as main accessories to improve reliability. Combination property and engineering level of the complete machine achieve international advanced level.
● When the transporter feeds girders cooperating with the bridge girder launcher, fixed three points support is turned to indeterminate many-points, which greatly improve the reliability of support and reduce bending moment of main girder of transporter frame.
● As for safety: the transporter is equipped with monitoring alarm, emergency braking device, limitation inhibiting device, overload protection device, work environment wind force measurement device and so on.
● Set up double driving rooms with same configuration at two ends of the transporter, can realize two-way walk. In the driving room, you can watch rich display information to fully understand and control the condition.
3. Main technical parameters of Girder Transporter
Product Model
HZY900
Load capacity(t)
900
Dimension (L x W x H)(m)
38.6 x 6.95mx 3.4(without cabin)
Moving speed Empty load in flat(km/h)
0-12
Moving speed Heavy load in flat(km/h)
0-5
Working pressure Heavy load in flat(MPa)
21
Working pressure Heavy load in climbing(MPa)
30
Climbing gradient
5°
Min. radius in turning of outside(m)
38.4  outside
Min. radius in turning of inside(m)
26.3   inside
Power(kw)
2 x 420
Tyre shafts
16
Types
26.5R25, 16 X 4

=

64

Shaft distance(M)
2.1
Wheel distance(M)
5.0/1.2
Wheel pressure(MPa)
<0.6
Grounding angle
8°
Off-grounding angle
13°
Self weight(t)
280