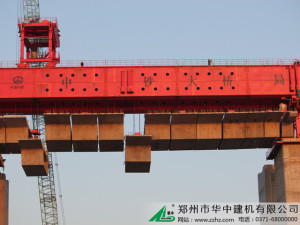 Main girder is of steel box type, made up of upper and lower layers which are connected by bolts. It has 5 sections with a total length 58m, 11.75m each for 2 sections, 11.5m each for 3 sections, featuring compact structure, high stiffness and mature producing technology.
Upper cover plate of main girder sets rails for large overhead gantry crane and 10t overhead crane, space between them will be used as walkway and their cable layout platform. Both sides of lower cover plate set longitudinal slides, longitudinal rails in the middle. Hanging longitudinal beam is set at upper flange at inside of main girder.
Both ends of main girder set upper and lower connection girders.